Europe Magic Wand
We're reviving the legacy of the Hitachi Magic Wand
Technical Specifications, tests and CE marking.
Europe Magic Wand is, first and foremost, a massage device developed with a focus on functionality, quality, and design. The properties of the product are uncompromised.
Europe Magic Wand is a "ball-top" type vibrator. Japanese brand, Hitachi, introduced their ball-top vibrator to the American market at the start of the '70s. Hitachi Magic Wand was produced as a shoulder-massager, but quickly became an icon in the "freeing of the female orgasm," thanks to popular orgasm expert, Betty Dodson. The ball-top vibrator is now firmly stocked on orgasm courses and a bestseller on the American market – with its nickname, "The Cadillac" and " The Queen of Vibrators." In recent years, the iconic magic stick has appeared in the series Sex and the City and the book Fifty Shades of Grey.
Hitachi Magic Wand was available for purchase in the USA up until 2013.
Europe Magic Wand was born out of frustration over the lack of a legal and secure Magic Wand for the European market. In the beginning, we wanted to find a 230 V wand legal to sell and use in Europe. We tested everything we could find. After one year, we gave up trying and decided to make our own. It took another year to develop the electronics needed for our massager to be approved for sale in Europe. We sold the first Magic Wand in January 2012.
Today, experts are using Europe Magic Wand as a benchmark when testing new products on the market. This makes us proud. We're also proud that our Magic Wand ranks in the top 5 bestsellers lists of our suppliers.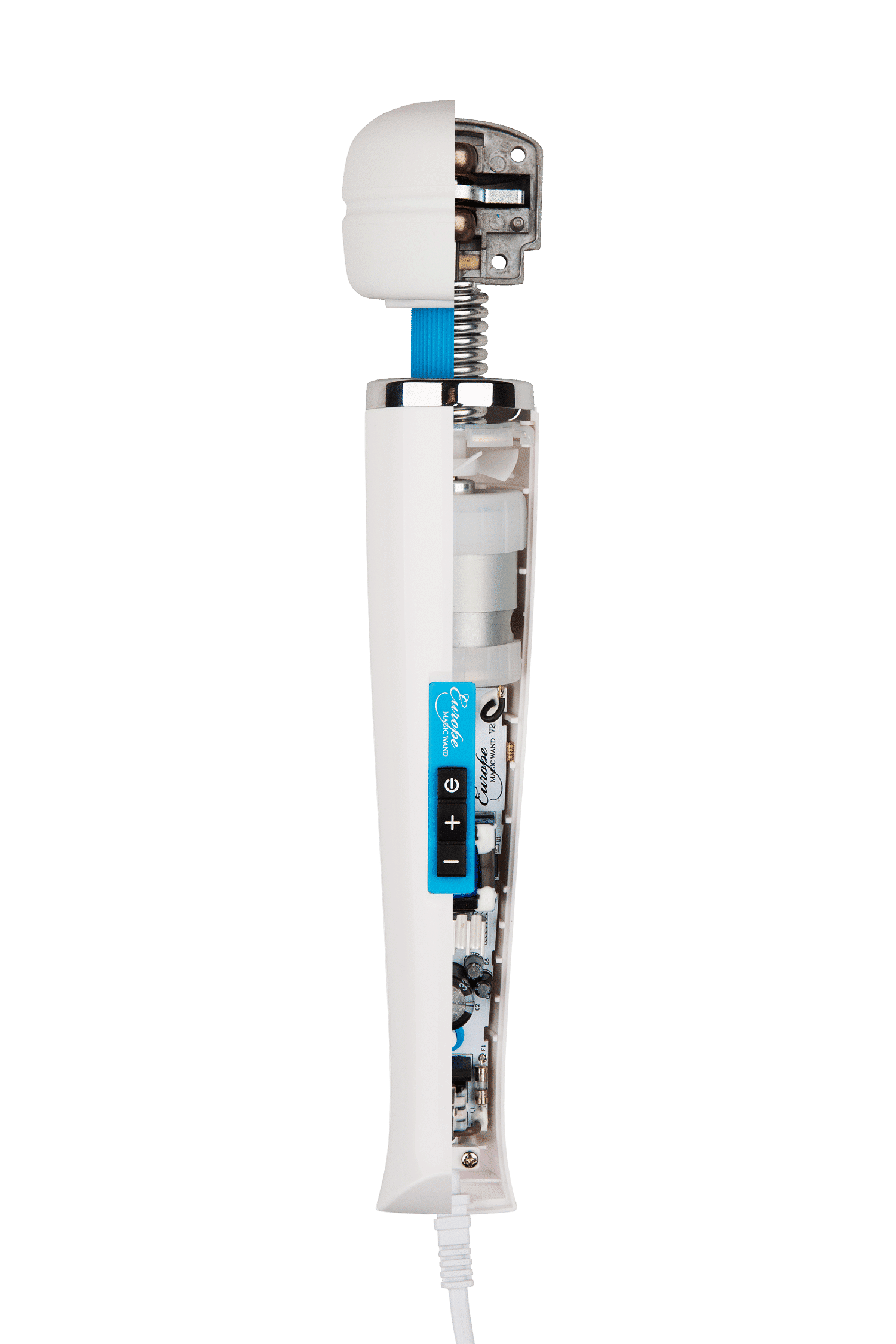 1
Soft head in 1.5mm silicone + 6mm PU foam
4
Flexible metal spring reduces vibrations in the shaft
5
The assembly is cast with silicone to reduce noise
7
Powerful motor 6 – 30W in quiet suspension
9
Hygienic button design for easy cleaning
10
Buttons are formed so they can be found in darkness
13
Phthalate-free ABS plastic
14
Mains connectivity and no charging
15
Long cable for extra freedom of movement
A big improvement over existing models
Just one year after the launch of Europe Magic Wand we received great recognition from Betty Dodson, who proclaimed our magic wand an improvement on all existing models. THANKS! We're very proud of this brilliant review that Betty Dodson gave the Europe Magic Wand vibrator in 2013:
"I have experimented with many different styles of vibrators but concluded that the Magic Wand from Hitachi was the best. But when I ran groups in Amsterdam, Copenhagen, and Oslo, we had to use converters that eventually shortened the life of the vibrator. But no one cared to make a European model, and still, women demanded their wands.
After decades this has changed! A women engineer from Denmark and her team have taken the sexual well being of the European women serious and created a wand for them.
Finally, our European sisters have their own wand with the correct current and improved hygienic details. And I have to add – the Europeans haven't been waiting in vain. Europe Magic Wand is a big improvement over the existing models!"
With love

Buy your original European Magic Wand and accessories here
Strong Vibes
Nerdy passion with a focus on the user
What makes a good product? With a background in engineering, we think the most important factors are functionality, quality, and attention to detail. Functionality is the prerequisite for a long-lasting product and something on which we never compromise. This is what separates a one-night-stand from a life-long relationship.
Quality is necessary for a product that doesn't just end up in the drawer, but rather is used again and again. It's also extremely important that a product does not contain hazardous substances and is safe for use. We are possibly the only company in our branch that publishes our documentation and tests for Phthalates and CE. It's important for us that as a user, you are not in doubt. Tests for hazardous substances and CE requirements.
The little details are what make the everyday use of a product enjoyable. They're not necessarily the first thing you notice. Maybe you never notice them, but you would certainly notice if the details were missing.
Europe Magic Wand is created on the basis of listening to the needs of the user: user-surveys and the testing of hypotheses. Analysis of vibrations, materials, and physiology are just some of the elements used in the continuous development of our products.
Our users give feedback on functionality – and we listen. This function-driven innovation helps the massager live up to expectations and keep our aim in sight. We have given this development a quality seal that we call, "Strong Vibes."
In our Vitality Lab, we control all reported faults found by our users. Teamwork with our dedicated suppliers is, therefore, a great source for constantly improving our products. On the outside, the Europe Magic Wand has kept its style and appearance, but we have developed and added lots of little details throughout the years which have improved functionality. Most of these improvements have been made inside and, among other things, have made the Europe Magic Wand incredibly quiet considering its power. User feedback has also influenced the addition of a longer cord and easier cleaning ability.
Original Europe Magic Wand sold until May 2017
Original Europe Magic Wand sold after March 2017
Another example is the optimization of our button design, for some, a small detail. Some competitors add a light component to display speed variations, but we are of the conviction that the vibrator should not attract unnecessary attention, but the operation must be intuitive, even in darkness. Therefore, we've formed both + and – on the surface so users can easily differentiate between the two buttons. They have a convex and concave surface which ensure users do not need to look at the vibrator during operation. Moreover, the buttons are made from one integrated piece of silicone for ease of cleaning.
To ensure you buy an original Europe Magic Wand and original accessories, we recommend users to buy via our online store or from one of our official suppliers. The easiest way to recognize an original Europe Magic Wand is by checking the button or its black box. There are two versions of the button for Europe Magic Wand.
What makes a good vibrator?
It's the deep and soothing vibrations that have given the ball-top vibrator its good reputation.
However, users have sometimes asked for less powerful vibrations than those given by the Hitachi Magic Wand vibrator. That's why Europe Magic has 6 speeds to explore.
The Hitachi Magic Wand had two speeds. It contained the same power found in speeds 5 and 6 of the Europe Magic Wand.
The depth of vibrations comes from the combination of weight in the massager's pendulum and head. We haven't compromised or changed the head to plastic as with many other magic wands. The head is made from cast aluminum and painted so it is hygienic and resistant.
Sex, security and CE-marked
Your security is important to us
Safe sex is often related to the protection against diseases as well as pregnancy.
When using electrical appliances, security is a serious concern. However, many do not realize that sex toys must meet safety requirements. There are many sex toys and magic wands on the market that do not meet the legal requirements needed for CE-marking.
Before 2012, no massager on the European market lived up to the standards of a CE-marked massager.
In connection with the development of Europe Magic Wand, it was particularly important that the electric massager meet EU legislation requirements for safety and thereby be CE-marked.
Currently, as far as we are aware, it is only the Danish-produced Europe Magic Wand that publishes documentation. So, you can be sure that you're buying a product that is thoroughly tested by an independent authority. It is this documentation that underlies we can CE mark Europe Magic Wand and thus market and sell Europe Magic Wand in the EU (EEA).
See Europe Magic Wand documentation for CE
CE-marking
An electrical appliance can only be CE marked when it complies with EU legislation and standards for electrical appliances. Devices running on 230V mains voltage must meet much stricter requirements if they run on battery.
A quick test available is to check if "Rated Voltage" and "Rated Power" are present on the label. If this information is missing, you can be sure the device does not meet the requirements of the CE directives. The product will thus not be legal to sell or use in the EU.
Greater freedom of movement
The electrical cord ensures you have the vibrations when you need them.
Freedom of movement is important. That's why Europe Magic Wand has a 236 cm long cable for extra spontaneity.
We will not compromise on the powerful vibrations and, for this reason, have not introduced a battery version. In our opinion, everyday use should not be interrupted by the need to charge the magic wand. This is essential in avoiding situations where you run out of battery at inconvenient times. After use, it is important the user can put the massager back in the drawer, ready for next time.
The life of most batteries greatly deteriorates after 1-2 years. Europe Magic Wand is made to last much longer and is made for the European plug at 230 V.
With Europe Magic Wand there is no clumsy transformer to contend with: you get a stylish plug.
We know the vibrator will be used more than sore muscles, so Europe Magic Wand is fitted with a removable, soft silicone head for easy cleaning and replacement of accessories.
Alternatively, you can upgrade your Europe Magic Wand with Genio. Genio is made from a silicone material of varying textures. The treated surface is matt and soft.
100% Silicone
The removable silicone cap is made from 100% phthalate free silicone (outer) and is designed to resemble the cap used on the old Hitachi Magic Wand. The difference is that the Hitachi's outer head was made of a relatively hard plastic material. This made it difficult to remove.
We have made the outer from 100% silicone, as we are not fans of plastic directly on the skin. The inner head is made of EVA foam: the same found in mattresses.
The ball-top's round design feels nice and soft against the skin and intimate areas.
Easy to clean
The silicone head is detachable and thus easy to clean and disinfect.
The specially designed accessories for Europe Magic Wand, including the silicone heads, Genio, Genius and Silky Touch are made from 100% silicone and even easier to clean.
Silky Touch is an alternative to Vintage Touch but can also be washed on the inside.
The slats inside Silky Touch hold the weight of the head down, making it softer as if it were of solid silicone like Genio and Genius.
Vintage Touch with EVA foam inside
Vibrations and how they are felt
Here is an (admittedly nerdy) technical review of what vibrations are and why they are widely different from one magic wand to the next.
One can feel a vibration from a magic one as a result of the choices made in the design. The perception of the resulting vibration is naturally individual, but there's a reason the legacy of the Hitachi Magic Wand is preserved in the Europe Magic Wand.
Our approach has been to preserve the parameters that have a direct influence on the creation of vibrations. With Europe Magic Wand we can identify the following parameters as all having an influence on the characteristics of the vibrations and how they are perceived on the skin.
The following selections will all affect the parameters of vibrations which can be measured and described as follows:
1. Materials and design of the massager's head
Comes with detachable head
Europe Magic Wand (EMW) comes with a detachable head consisting of a thin, 100% silicone layer with a soft surface and an inner of 6mm PU foam. We call this head "Vintage Touch." It can be bought as a reserve for EMW.
This accessory is closest to that found on the Hitachi Magic Wand which was made of a thin plastic layer with 6mm PU foam inside. However, the plastic gave the surface a much harder feel.
We do not use plastic as it would require the use of unhealthy plasticizers.
Accessories: Choose between three types of vibrator heads
There are three types of heads for the Europe Magic Wand, each with their own characteristics and effect.
Genio and Genius are made of medium-soft silicone with a silky matt surface. They are both made from 100% silicone and cast so they fit the head of EMW.
Silky touch is developed as a more hygienic alternative to Vintage Touch. Vintage Touch is, as mentioned, made from a layer of PU foam on the inside and therefore not so easy to clean. Silky Touch simulates the PU foam internally with slats in the silicone. This makes the heads softer and lighter. Genio is made of solid silicone which transfers the vibrations completely without loss but weighs more.
Third party accessories and testing of hazardous substances
Third parts accessories for EMW are made to be mounted without the white silicone head which comes with EMW. This solution isn't optimal, as the accessory doesn't fit securely, causing energy loss. This means higher speed is needed, meaning more noise is created.
Genio, Genius, and Silky Touch are made to be mounted directly on EMW's metal head. Vibrations are transferred without loss, meaning EMW can work at a lower speed and generate the same power with less noise, giving a more pleasant experience.
We test for hazardous substances in our accessories
Even though we produce our own accessories we still check the raw materials to ensure they are non-toxic.
See documentation here:
2. Weight of the massager's head
Each massager has a natural frequency causing it to vibrate more than at other frequencies.
With a massager, it is especially challenging as several parts have to work together. For example the shaft, head, and components of the device. The head of the massager must swing, whereas the rest of the device should not, so the separation between the head and the shaft is of great importance for how comfortable the device feels in the hand.
The weight of the Europe Magic Wand's head, shaft, the eccentric weight and the separation between the head and the shaft will all affect the way vibrations are perceived.
Weight of the head of Europe Magic Wand:
Metalhead + Miscellaneous 100g
Eccentric weight plus shaft 19g
Silicone head + foam 33g
Total 152g
3. Center of gravity for pendulum weight
When something rotates there is always a vibration. The better the balance, the less vibration. This imbalance is the whole purpose of a massager.
Europe Magic Wand has a pendulum weight of 16g (+3g for the shaft). The design of the pendulum weight determines how much the center of gravity is offset from the center of rotation. It is offset by 5.75mm for EMW.
The ratio between the 16g and the offset of 5.75mm from the center of rotation, plus the total weight of the Europe Magic Wand's head determines the bulk of vibrations. The speed can be varied, producing numerous settings. For an idea of these differences, here is an overview of the measurable parameters: Vibration tests
The remaining parameters below can also influence vibrations. However, due to the design, these influences have been greatly reduced.
4. Separation of the massagers shaft from the head
The Europe Magic Wand has a powerful metal spring separating the shaft from the vibrating head. A spring is optimal in avoiding unnecessary vibrations in the shaft.
The spring is designed with a distance between the coils to avoid unnecessary noise when the massager's head vibrates up and down. The spring is unique as it allows vibrations in all directions: x, y, and z (see picture), where a soft moulded joint will mainly allow vibrations in the x and y-direction, but transmit virtually everything in the z-direction.
5. The physical design of the entire massager and its total weight
When the head of the Europe Magic Wand vibrates, vibrations are transmitted through the spring to the shaft. If the design is efficient, vibrations will be minimal, giving a comfortable experience when holding the shaft.
With the Europe Magic Wand, the shaft begins to vibrate when the engine is running at approximately 2800-3000 RPM: the frequency of the shaft when the massager is not in use, that is, about the speed of the gear 1. However, we have concluded that gear 1 should lie at as low a speed as possible to give the largest range of speeds available (about 2900-6000 RPM). This means the shaft can vibrate in gear 1, but the speed is so low that it is barely noticeable.
When mounting accessories on EMW, the natural frequency will change and vibrations from the head and shaft will differ from the above description. Since EMW has 6 speeds, an appropriate speed can always be found.
6. Effect of the Engine Power
Powerful vibrations are intentional. It requires a motor and a power supply that can deliver the required power under stress.
The engine must be powerful enough to avoid a reduction in speed when loaded, ie if the engine is running at 6000 RPM (revolutions/minute) without load, then a powerful engine will run at 5950 RPM when fully loaded. A weak motor or power supply will cause the speed to drop, for example, to 5000 RPM.
On the back of the Europe Magic Wand the nominal power rating stated on the label is 15W. This is the effect during ordinary use (medium pressure against the skin). With heavy strain, the power rises to up to 30W. When working completely without load, EMW uses 7-8W (highest speed), which is very low thanks to the super-efficient motor. Efficiency is an expression of how much of the deposited power in the engine becomes mechanical and not heat.
Power consumption during use at highest speed with varying amounts of pressure on the skin:
Without load 7-8W
Medium load 15W
High load 22W
Very high load 28W
The power supply in the Europe Magic Wand is designed to deliver up to 30W in peak loads, sufficient for engine requirements.
If the load over a longer period exceeds 25W, the power supply will temporarily turn off and power on again after appropriate cooling. However, this will not normally happen.
The above points describe all fixed attributes that affect how the vibrations feel against the skin. They cannot be changed without a total redesign of the product. Engine speed is the only parameter that changes during use.
The speed affects how much sensation Europe Magic Wand delivers to the body. However, as seen in this measurement chart, the amplitude is often greater at lower speeds. This greater amplitude of motion will provide a more comfortable and deep vibration than at a higher speed.
The amplitude describes how much the head of the Europe Magic Wand moves back and forth under normal use. A higher value will be perceived as penetrating and lower value as mild.
If the Europe Magic Wand is heavily loaded, there will be no huge difference in the detection of amplitude measurement, as the powerful engine and power supply will deliver more power. With a weak massager, a heavy load will cause the amplitude to decrease.
For Europe Magic Wand, the amplitude is approximately 1-2mm depending on the frequency (the speed of the motor), ie the head moves up and down on the skin by 1-2mm, virtually independent of the load.
By changing the speed from 1 to 6 the penetrating effect can thus be varied.
In the following table, measurements can be seen for the amplitude both on the side and on top of the head. This is because many people use the vibrations from the top of the massager's head.
In terms of the human perception of vibrations, the amount of amplitude and acceleration are better values than speed. The amplitude is perceived as penetrating and the acceleration is perceived as power. Therefore, we have not focused on measuring speed.
The best way to measure the strength of vibrations is with a measurement of acceleration. The power could, however, occur both at a slow rate (frequency) of high amplitude, or low amplitude at high speed.
Your preference is, of course, a matter of taste, but the Europe Magic Wand is built to have a generally large amplitude with a variable speed that can be varied up to 6000 RPM. Here you can get a sense of what vibrations fall into people's tastes. See Pinterest reviews
As mentioned, Europe Magic Wand has 6 speeds from about 2900-6000 RPM.
Some magic wands have increased speeds to 7-8000 RPM, but this is not a road we have taken as this would require compromises. For example, the amplitude which is perceived as a deep vibration. In our opinion, 6000 RPM is sufficient and anything higher would quickly cause discomfort.
Lower speeds are not possible as this would lead to a strong vibration of the shaft rather than the massager's head.
Here you can see a series of measurements: amplitude, acceleration, frequency and sound levels for a number of Magic Wands: Vibration tests.
Metrics are one thing, and personal taste another. It is the deep vibration (amplitude of the massager's head) Europe Magic Wand is famous for. We describe them as "Power that makes you smile." As described under "Engine Speed," you do not get deep vibrations without a powerful motor.
I haven't heard of any women who have not reached orgasm using the Europe Magic Wand. It's a fantastic instrument.
Frequently Asked Questions
Does attachments for the Hitachi Magic Wand works well on the Europe Magic Wand?
Yes, all attachments that will fit Hitachi Magic Wand will also fit the Europe Magic Wand.
Europe Magic Wand attachments like Genius, Genio and Silky Touch will transfer the vibrations better as they are mounted directly on the metal head underneath. Therefore you can run the vibrator on a lower speed and have lesser noise when using the attachment.
Best regards
Jesper, EuropeMagicWand.com
Can the Europe Magic Wand be used with 110V?
Yes!
The Europe Magic Wand has a switch mode power supply inside that can convert both 110 V @60 Hz & 230 V @50 Hz, so you might only need a plug converter. Both 110 V and230 V will give the same power output in terms of vibrations.
If you have an earlier model, you need to check the serial number on your Europe Magic Wand. If it is 15xxxxx or above, it will work in the US with only an adaptor for the wall. If the series number is 14xxxxx or below, you will probably need a voltage converter also, as the minimum voltage is around 120 V on these versions.
Jesper – EuropeMagicWand.com
Does it support 220v, 230v or 240v voltage?
Yes. It actually supports 100v-240v, this means you can use it in every country around the world. You can take it with you everywhere you go.
What is the difference between the Hitachi Magic Wand and the Europe Magic Wand?
The Europe Magic Wand was inspired by the Hitachi Magic Wand. We designed it to support voltage of 220v-240v making it suitable for use in Europe. (The original Hitachi wand only supports 120v – which is unsuitable for use in Europe). The specifications of both wands are nearly identical: The Europe Magic Wand has 2 speeds and is just as powerful. We've also included 8 vibration patterns to add more stimulation for the users making it more fun-
Will you make a rechargeable version of the Europe Magic Wand?
At the moment we are not planning to make a rechargeable version. We have thought about it a lot and I will happily describe our reason for not pursuing the battery road.
Our approach has been to make a "no nonsense" Magic Wand that prioritises functionality above all, especially the powerful vibrations.
A battery can have some advantages, but we have not found them to outweigh the disadvantages that it will also bring. Here are our thoughts about implementing a battery:
With battery, you have to have the massager lying around somewhere to charge after use. We think that it is better to have the opportunity to put the massager away immediately after use. It is meant to be a tool that is as helpful as possible, but as little intrusive as possible.
With a battery inside, you will need a wall power adaptor to charge it. We prefer to have the power supply inside the EMW and having a simple plug with a clean look.
By having the power supply inside the handle, we are adding some weight to the handle of the Europe Magic Wand. This added weight is lowering the natural frequency of the massager so it can run at a lower speed without too much vibration in the handle. These slow but very powerful vibrations are often preferred.
With a battery, you have to choose between powerful vibrations and long battery life between charging.
Batteries are not good for the environment.
A rechargeable battery's lifetime is usually around 1-2 years when used regularly, we would like our product to last longer.
Last but not least, if the battery is a must, there are other products available that already made some of the trade-offs, f.ex. Lelo Smart Wand large.
To our knowledge, most use of the Europe Magic Wand is near a power outlet. Europe Magic Wand has an extra long wire, so it is usually not a problem with mains power use. "Power that makes you smile" should be readily available and not need to charge:)
Best regards
Jesper, EuropeMagicWand.com
Do you offer discreet shipping?
Yes. The Europe Magic Wand Massager is shipped very discreetly in a plain brown box with no images and no description about what is inside the package. 100% anonymous. Your confidentiality is our priority.
Is the Europe Magic Wand waterproof?
I was wondering about the EMW not being waterproof.
What exactly does that mean? If liquids ran over the head of the EMW down to the handle and maybe even all the way over the cord, would that be unsafe?
What I am also curious about is the issue of overheating.
From previous statements, I know that with certain attachments a shut down due to overheating can occur in as little as 2-10 minutes.
How long does it take an overheated EMW to be ready for use again?
Can it be prevented by other means than using lower speeds?
Will this be improved in future models?
Thank you for your effort in answering my questions.
Kind regards,
Eric
***
Hi Eric,
Thanks for your questions.
Waterproof
It is safe enough to use the EMW even if there is water going into the massager. It will, however, destroy it. There is a small fan at the top of the massager so the water will go into it quickly. If you want to protect it you can put a condom on top of the silicone head and down onto the handle to make it watertight at the top. That will help a lot.
It is not safe to bring it into a bathtub or shower.
Overheating
There are two issues here:
The massager is using around 10 W at max speed but no load. If you load the massager it will usually use around 20 W. At very high load it is even using 30 W. When we design the massager, we can choose to limit the max load, but that will make it less powerful, so we choose to let the electronics stop the massager instead if the load is too high for too long. If you use the Genius f.ex. it is ok for speed 1-4 but it will be a very tough load for speed 5-6 so it might overheat. Genius and Genio is made to fit directly on the metal head of the massager for transferring the power most efficiently. All other attachments are made so they go on top of the white silicone head. That will lose a lot of power and you can (need to) run the massager at higher speeds to get the same effect.
The massager will usually be ready after a couple of minutes after an overheat, but I would recommend to let it cool for 5 minutes.
The bearings in the head will heat up when the massager is used. If the lifetime of the massager should be shortened, we recommend that the massager gets a break after 20 minutes, if it is used at speed 6 (max). If you use it at lower speeds, it can be used for a longer time. After 20 minutes at full speed, I would recommend a 10 minutes break.
We might change some of this in a future model, but right now I think it is not a problem for most people.
Let me know if you have any other questions 🙂
Best regards
Jesper, EuropeMagicWand.com
Does the Europe Magic Wand work as a body massager?
Hi!!
I'm very interested in buying the magic wand but I know my husband would be offended and think I'm not happy with the sexual part of our relationship if he discovered it. So I was wondering, as this vibrator was originally thought to be a massager, can it still really be used to ease muscular pain, give normal massage or contractures? because we both could use it for that and I could disguise it as a normal massager. And he wouldn't need to know I need some happy alone 'me' time sometimes.
Also is any sexual mention or any sexual picture in the box? I need to make sure that if you don't know this wand special uses you can't realize just looking at the box.
Thanks!
Kata
***
Hi Kata,
Is it a body massager?
First of all – YES – Europe Magic Wand is also used for sore muscles.
Europe Magic Wand is a high-quality body massager – that according to the users also happens to be the worlds best intimate massager. It is my feeling that when couples use it together, body massage is an important part. Either as foreplay or simply as having a great relaxing time together.
What does the box say?
The box has a logo and a picture of the product – no images that tell the diversity of use. It is a very eco-friendly cardboard box – no connection to the fancy boxes that high-quality sex toys often comes in.
The words on the box, however, give a hint (same text is in the users guide inside the box):
//Europe Magic Wand – your source of pleasure
Massage loosens up muscle groups, eases tension in the body and give more energy to handle a busy lifestyle. For many people, massage also opens the door to a world of sexual wellness that often contains more than they thought possible.
//Europe Magic Wand – your source of pleasure
Soft, rounded head provides a comfortable, relaxing massage
6-speed massage – from light and gentle to strong and powerful
Tested by certified test lab for your Health and Safety
We've tried to be very discreet about the diversity of uses, but your decision to buy or not will tell me a lot about how well we succeeded. Please let me know 
Good luck with your decision,
Kristine, EuropeMagicWand
Can I buy the Hitachi Magic Wand in Europe?
No. The genuine Hitachi magic wand is only available for sale in the USA and Canada. It is not available for sale outside of North American because Hitachi has only made the wand to support 120v. Also, it has not been CE approved to be sold in Europe.
We're here to help. You can find the most common questions in our FAQ. Please take a look before you ask a question so you don't have to wait for us to reply We're looking forward to hearing from you.
Buy your original European Magic Wand and accessories here
Europe Magic Wand official store
Power that makes you smile
Discrete shipping
Your product is delivered directly from our warehouse in Europe in a discrete package.
We will help you
If you run into any problems we are here to help you. You can return the product within 14 days if you regret your purchase.
Hassle free shopping
We offer secure payments with most global and local payment methods, easy returns and exchanges as well as a Global 1 year Warranty